Life is slowly returning to "normal" for me. Which means less eating out, more cooking at home, and a return to enjoyable food (food made at home is always better). I suffered greatly during my first trimester, and from mid-May until 4th of July I did not do much cooking at home thanks to my morning sickness. Oh, how I missed making my own food! Fortunately, that is all changing!
I'm linking up with Jenn at Peas and Crayons for the weekly What I Ate Wednesday. It's a great place to get new ideas for food, whether you're in a cooking funk or just looking for inspiration.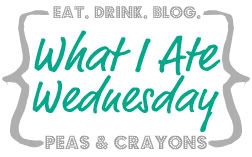 Here is a peek at what I ate Tuesday, from morning til night:
Breakfast:
to start the day, I made these amazing banana nut muffins with pecan streusel, recipe made by Jenn and posted a few weeks ago on her website. They were so good, I ate one for breakfast and then another one as a mid-morning snack. They were the perfect accompaniment to my current usual: one fried egg and cup of coffee.
Lunch:
I was out running errands mid-day, so I stopped by a soup & salad joint and had a romaine-broccoli-tomato salad topped with chopped egg, sunflower seeds, and carrots. Then I had two helpings of Albondigas, one of my favorite soups in the whole world.
Snack:
back at home for the afternoon, I was doing great until 4pm, when I was suddenly struck by an unbelievable craving for NACHOS. Pioneer Woman has this version of loaded nachos which is fairly easy that I like to make for large crowds. I have to scale it down quite a bit when I'm making them just for me. Well, me and the baby...
Dinner:
and maybe, just maybe, I was hungry for nachos because I had started my pot of Sunday Bolognese (ah the perks of being a stay at home mom) on a Tuesday. I have been working my way through various recipes, looking for that absolute best Sunday meat sauce and this bolognese had pork, veal, and porcini mushrooms in it. It had to simmer for two hours, but it was totally worth the wait!!
Your turn! What have you been eating and loving these days?