What kind of food do you think of when it's summer time? I'm going to share some of my recent summer eats as I'm linking up with Jenn from Peas and Crayons and What I Ate Wednesday!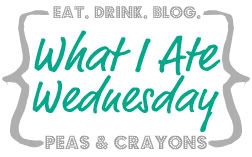 Instead of focusing on a specific day of eating, I want to celebrate summer. I love summer. It means eating fresh. It means eating fruits and vegetables without a whole lot of alteration to the food: easy salads, cold soups, etc.
We've also been grilling to ensure we spend as much time outside as possible. It seem's there's been a prevalent Mexican theme lately.
Top: fajitas! Middle: beef tacos; Bottom, left: korean beef ribs (from Trader Joe's!) with green beans and cauliflower mash; Bottom, right: fish tacos with salsa from Lyfe Kitchen
I've also been on the hunt for all things cold and refreshing. I am normally perfectly happy with good old water, but lately, I've been mixing it up with the beverages.
Drinks: strawberry lemonade, orange ginger chia water
What summer eats have you been enjoying lately?